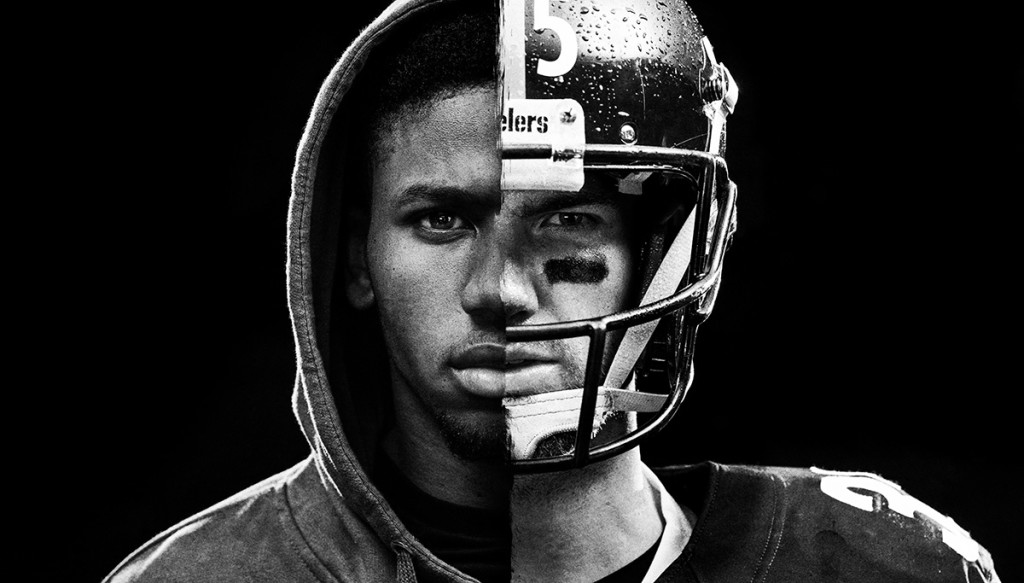 When Robert Gallagher got the call from the folks at the ad agency Phenomenon to create some gritty Black & White shots to highlight the new hi tech football from Wilson, the Wilson X, he knew he'd need some help adding just the right touch of Photoshop Magic. Naturally I was thrilled to be a part of the project!
Robert shot the images at Citrus College, near my hometown of Glendora, on a rainy night in late December. Working with his crew and the folks from the agency Robert shot 5 different scenarios featuring teen aged boys playing football with huge, Pro level athletes posing as his teammates and opponents. In the end the NFL approved two shots, the one above and the one below, of the boy alone on the field.
For the shot above with the two faces melding into one Robert shot similar frames of the boy and the "Pro" and after the agency made their picks I went to work blending the two faces. Since no two faces line up perfectly a good deal of the challenge was in finding the right balance of pushing and pulling the features to get them to line up just right. The really fun part of this work was finding different textures to overlay on the image to get the gritty look the Creative Director at the agency was after.
The shot below was actually a composite shot, combining several plates Robert shot of the kid and the field, with a stock shot of the stadium to make it look like he was playing in front of a packed house. Again after bringing all the elements together several layers of textures were laid over the image to arrive at the final look the agency and the clients at Wilson had envisioned.